FILM & PEOPLE
DATABASE
Film Directory
Film Directory
Our Twisted Hero (1992)
< U-ri-deul-ui Il-geu-reo-jin Yeong-ung >
This is the story of the dreams, agony discord and friendship of a group of country school boys before the beginning of Korea's economic boom in the late 50s and 60s. The story begins with Han Byung-tae, a lecturer at a college entrance preparatory institute, recalling his primary school days, 30 years ago. Byung-tae's father was transferred at that time into a rural area from his government office in Seoul. Byung-tae started attending the local school, there he meets Um Suk-...
more
| | | | |
| --- | --- | --- | --- |
| Genre | Drama | Production Status | Released |
| Running Time | 119min | Release Date | Aug 15, 1992 |
| Country | South Korea | Rating | |
| Language | | Co-Production | N |
| Original | | | |
Box Office
Related Photos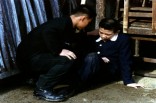 Any copying, republication or redistribution of KOFIC's content is prohibited without prior consent of KOFIC
Director & Producer
Cast
Staff
- Costume

CHO Kil-soo - Lighting

CHUNG Kwang-suk - Director of Photography

DO Yong-u - Art Director

Do Dong-hwan - Executive Producer

HEO Seok-do - Special Effect Make Up

JANG Hyun-soo - Screenwriter

LEE Gyeong-ja - Editor

Lee Tae-woo - Prop. Master

PARK Jong-won - Screenwriter

SONG Byung-jun - Music Director

Yu Dae-hyeon - Production Sound Mixer
Related News
HEO Chul's The Return won the Golden Zenith Award for Best First Fiction Feature Film at the 41st Montreal World Film Festival (MWFF). Based on a play of the same name, the film tells stories of regular customers who miss their loved ones, set in a bar that goes by the phrase, 'Drink makgeolli (rice wine) here and the one you miss will return'. It is HEO's feature debut, who previously directed tw...

Bong Joon Ho-Produced Naval Thriller Wins Golden Orchid Haemoo, the debut film of SHIM Sung-bo, which was co-written and executive produced by Bong Joon Ho, has become the fifth Korean film to pick up the Golden Orchid for Best Film at the Hawaii International Film Festival. It was the first Korean film to take the award in 14 years. Based on a true life story of a shipping boat that took on ill...

A Place of Interchange for Asia, the Pacific and North America Where Korean Films Have Constantly Been Strong E J-yong's My Brilliant Life was officially invited to the 34th Hawaii International Film Festival. Among the screening films of the 'Spotlight on Korea', where around 10 Korean films are introduced, this is the only film selected for the gala presentation section. A representative of the...
Awards and Invitation
Lyon Asian Film Festival (2008) - Résumé

Karlovy Vary International Film Festival (2001)

Paeksang Arts Awards (1993) - Film Awards

- Best Film

Paeksang Arts Awards (1993) - Film Awards

- Grand Prize

Paeksang Arts Awards (1993) - Film Awards

- Best Director

Chunsa Film Festival (1992)

- Best Film

The Blue Dragon Awards (1992)

- Best Director

The Blue Dragon Awards (1992)

- Best Film