FILM & PEOPLE
DATABASE
Film Directory
Film Directory
Ensemble (2014)
< Ang-sang-beul >
Seven classical music performers appear on stage. KWON Hyuk-joo, who started playing the violin at age three and is a star of the classical music world. SUNG Min-je, a contrabassist who wants to be popular. KIM Ji-yun, who is a bling-bling-looking violinist. JANG Jong-seon, a clarinetist who thinks seriously. LEE Han-na, a violist who has performances all over the world. PARK Go-eun, who has never lived without holding a cello in her arms. PARK Jin-woo, a pianist who does mix...
more
| | | | |
| --- | --- | --- | --- |
| Genre | Drama, Documentary | Production Status | Released |
| Running Time | 73min | Release Date | Dec 18, 2014 |
| Country | South Korea | Rating | |
| Language | Korean | Co-Production | N |
| Original | | | |
Box Office
Contact Point
Star J Entertainment | starj515@hanamil.net
Related Photos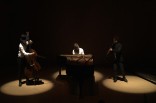 Any copying, republication or redistribution of KOFIC's content is prohibited without prior consent of KOFIC
Director & Producer
Production & Sales Company
Staff
Related Reports
Several different films divided the spoils of the late May box office in Korea, with the new Korean thriller Montage edging out its Hollywood rivals to take the #1 slot. In the two weeks since its release on May 16th, the film has sold a total of 1,554,545 admissions. The work of first-time director JEONG Keun-seob, Montage centers around a series of events that take place exactly 15 years after t...

Hollywood blockbuster Iron Man 3 continued to dominate screens in its second and third week on release, as it has in other territories around the world. With another 3.9 million tickets added over the past two weeks, its running total now stands at a massive 7.7 million admissions, which is worth approximately $55 million. This qualifies it as the second highest grossing Hollywood film in Korea ev...
Awards and Invitation
Marie Claire Film Festival (2013)

Jecheon International Music & Film Festival : JIMFF (2012)