DATABASE
Film Directory
Film Directory
Mother And A Guest (1961)
< Sa-rang-bang Son-nim-gwa Eo-meo-ni >
Ok-hee lives with her grandmother (Han, Eun-jin), mother (Choi, Eun-hee) and a housekeeper (Do, Geum-bong) in a house known as the 'widow house'. It got its name since all three women in the house are widows. One day, Mr. Han, a friend of Ok-hee's uncle, comes to stay as a boarder and Ok-hee who had never met her father before becomes quite fond of the man. Eventually, Ok-hee's mother and Mr. Han secretly fall in love with one another and Ok-hee becomes a secret messenger bet...
more
| | | | |
| --- | --- | --- | --- |
| Genre | Drama, Romance | Production Status | |
| Running Time | 103min | Release Date | - |
| Country | South Korea | Rating | |
| Language | | Co-Production | N |
| Original | | | |
Box Office
Related Photos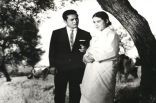 Any copying, republication or redistribution of KOFIC's content is prohibited without prior consent of KOFIC
Director & Producer
Cast
Related News
The 43rd Hong Kong International Film Festival (HKIFF) has partnered with the Korean Film Council (KOFIC - Chairman, OH Seok Geun) to celebrate the 100-year anniversary of Korean films this year with a special "Centenary of Korean Cinema" program, which will include ten classic and contemporary Korean titles. In addition, various masterclasses, introductions and post-screening talks will b...

Legendary actress CHOI Eun-hee passed away on April 16 at the age of 91 following complications stemming from a chronic disease. She was known as a screen siren of Korean cinema in the 1960s and was famously abducted in the 1970s, along with her husband, director SHIN Sang-ok, and forced to make films in North Korea. CHOI began her acting career in 1947 and was known as part of the famed 'troika' ...

A retrospective of the work of classic filmmaker SHIN Sang-ok is currently playing at the Guimet Museum in Paris. Dubbed 'SHIN Sang-ok: The Korean Equation', the program runs from November 24 to December 17 and includes a curated selection of 14 titles among the 300 films the filmmaker is credited with directing or producing. A master of Korean melodrama and period films, SHIN was a dominant figur...
Awards and Invitation
Hong Kong International Film Festival (2019) - Centenary of Korean Cinema

Nantes Three Contintents Film Festival (2017) - SHIN Sang-ok, The Korean Equation

Vesoul International Film Festival of Asian Cinema (2016) - South Korea: Cinema and Litterature