FILM & PEOPLE
DATABASE
Film Directory
Film Directory
Mother Is a Whore (2011)
< Eom-ma-neun Chang-nyeo-da >
Sang-woo is 38-years old and gets infected with AIDS. He lives with his mom in a small hut in the suburb where Sang-woo works as a pimp. His mom is a whore. Her customers are cripples, the old, and perverts. She sells her body for 7$. Everyone thinks her son makes her a whore but she works as a whore to make a living and saves money for her son. Sang-woo's father, named Jung-il, abandoned Sang-woo and his mom. Jung-il thinks his son is a scumbag by using his mom as a whore. J...
more
| | | | |
| --- | --- | --- | --- |
| Genre | Drama | Production Status | Released |
| Running Time | 95min | Release Date | Mar 31, 2011 |
| Country | South Korea | Rating | 19 |
| Language | Korean | Co-Production | N |
| Original | | | |
Box Office
Contact Point
SeungAmKwan Film Factory | daysofhell@naver.com
Related Photos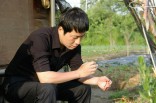 Any copying, republication or redistribution of KOFIC's content is prohibited without prior consent of KOFIC
Director & Producer
Production & Sales Company
SeungAmKwan Film Factory - Production

SeungAmKwan Film Factory - International Sales
Cast
PARK Seo-yeong

KIM Ji-hee

CHOI Gyo-sik
Staff
CHO Young-jik - Color Grading,Director of Photography

CHOI Phil-sun - Producer

CHOI Young Chul - Generator

JungBae Lee - Set

KIM Hun - Assistant Director,Trailer

KIM Young-ho - Sound Mixing

Kim Mi-seung - Music Director

LEE Sang-woo - Editor,Screenwriter

MO Hyun-shin - Producer

NAM-HOON OH - Sound

Park Ja-young - Sound

YEON Chang-heum - Lighting
Related News
Texas Fest Gets US Premiere of Bong Joon Ho-Produced HAEMOO Austin, Texas'Fantastic Fest is gearing up for its 10th anniversary, which will take place next week at the recently reopened Alama Drafthouse. Two Korean films will take part in this year's festivities: LEE Sang-woo's I Am Trash and SHIM Sung-bo's Haemoo. Competing in the 'Fantastic Features'section will be LEE's I Am Trash, which is h...

Short! Short! Short! & Jeonju Digital Project Short! Short! Short! and Jeonju Digital Project are undoubtedly the representative programs of the Jeonju International Film Festival (JIFF). This year, these two programs catch attention from the world as usual. Let's see who brought what films to Jeonju this time. Short! Short! Short!: When a Novel Meets a Film Short! Short! Short! is a short ...

Short stories meet film Jeonju International Film Festival has released details of its 'Short! Short! Short! 2013', a project which promotes up-and-coming directors' new vision. This year the program will consist of short films based on a Korean writers' short stories thereby creating opportunities for good Korean literature to be introduced overseas. The focus this year will be KIM Yo...
Awards and Invitation
Jio MAMI Mumbai Film Festival with Star (2010) - World Cinema

Hong Kong International Film Festival (2010) - Asian Digital Competiton

Stockholm International Film Festival (2010) - Asian Images

Indie - World Film Festival (2010) - World Cinema

Asian Hot Shots Berlin (2010) - Competition Asia

Lyon Asian Film Festival (2010) - Competition

University Film Festival of Korea : UNIFF (2010)

Kyoto International Student Film & Video Festival (2009)