FILM & PEOPLE
DATABASE
Film Directory
Film Directory
Yeong-Ja's Heydays (1975)
< Yeongja-ui jeonseongsidae >
After discharging from the army, Chang-Su ,a massagist at a public bath, happens to meet Young-Ja at the police station. Three years ago, when he was an ironworker, he fell in love with Young-Ja, a housemaid in a rich family. After being raped by her employer's son during Chang-Su' military service period, she works in a sewing factory but she quits the job because of poor pay. Then she works as a barmaid and bus conductless. Young-Ja loses one arm by car accident and tries t...
more
| | | | |
| --- | --- | --- | --- |
| Genre | Drama, Romance | Production Status | Released |
| Running Time | 103min | Release Date | Feb 11, 1975 |
| Country | South Korea | Rating | |
| Language | | Co-Production | N |
| Original | | | |
Box Office
Related Photos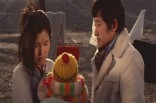 Any copying, republication or redistribution of KOFIC's content is prohibited without prior consent of KOFIC
Director & Producer
Cast
Related News
Classic Korean Cinema on Show in MA The Harvard Film Archive is currently staging a showcase of the work of filmmaker HA Gil-jong, one of the most important Korean filmmakers of the 1970s which began on February 3rd and will run until the 27th. Though not as well known as fellow classic Korean filmmakers KIM Ki-young, YU Hyun-mok or SHIN Sang-ok, director HA Gil-jong has steadily seen his reputati...

Korea's representative films were distributed to major universities such as Harvard in the U.S. and Cambridge in the U.K. and cultural centers abroad. The Ministry of Culture, Sports, and Tourism and the Korean Film Archive produced and distributed complementary DVD box sets of great Korean movies with multi-language subtitles and guides to about 600 universities and colleges and cultural centers...
Awards and Invitation
Paris Korean Film Festival (2012) - Classiques