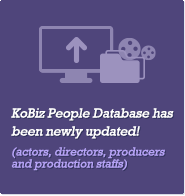 Production recently began on History of Jealousy (translated title). The indie film began shooting on December 10th at the Gunsan Philharmonic Orchestra with support from the city of Gunsan. Directed by JUNG In-bong and starring OH Ji-ho and NAM Kyu-ri, the film is about love, jealousy and revenge among five ...
Dec 11, 2017

Crime/Thriller/Actio...156min
Showbox Corp

Becoming Who I Was

Director :

MOON Chang-yong JEON Jin

Documentary95min
SONAMU Films

Crime/Action121min
M-Line Distribution

Merry Christmas Mr. Mo

Director :

LIM Dae-hyeong

Cast :

KEY Joo-bong

GO Won-hui

JEON Yeo-bin

YU Jae-myeong

Comedy101min
INDIESTORY Inc.


Loving Vincent, the world's first, fully oil painted feature film, surpassed 200...


Marvel and DC have been long time rivals in the comic book industry in the Unite...


South Korea $3,173,371

South Korea $2,334,569

South Korea $2,103,962

Japan $1,934,653

U.S. $1,090,788