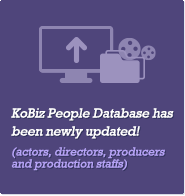 NORTHERN LIMIT LINE Sets Sail for North America & Oceania KIM Hak-soon's Northern Limit Line, an account of a naval skirmish between North and South Korea during the 2002 World Cup, is about to set sail for some major foreign markets after proving to be a hit at home following its release last week. ...
Jul 03, 2015

Drama119min
CJ Entertainment

Gifted

Director :

JUHN Jai-hong

Cast :

BAE Jung-hwa

Drama/Thriller102min
FINECUT

C'est Si Bon

Director :

KIM Hyun-seok

Cast :

KIM Yun-seok

JUNG Woo

HAN Hyo-joo

KIM Hee-ae

Drama/Romance/Comedy123min
CJ Entertainment

Miss The Train

Director :

LEE Kyung-sub

Cast :

PARK Ju-hee

GWON Yool

Drama85min
Mirovision Inc.


Word of Mouth Leads to Hot Ticket Sales Word of mouth has done it. Mad Max: Fury...


Will AVENGERS: AGE OF ULTRON Become the Top Performing Foreign Film? The fourth...


South Korea $7,801,448

U.S. $5,013,461

South Korea $3,640,109

South Korea $986,572

5

U.S. $530,776