KOFIC Location Incentive

The Korean Film Council (KOFIC) has recently launched a location incentive, which supports part of the expenses of foreign feature films, television series and documentaries shot in Korea.
Up to 30% Cash Rebate
- KOFIC offers up to 30% cash grant on foreign audio-visual works production expenditure incurred for goods and services in Korea.
The grant amount shall be determined taking into account the remaining grant program budget on the date of application.
- 30% rebate : Shoot no less than 10 days
Spend no less than 2 billion KRW (2 million USD)
- 25% rebate : Shoot no less than 7 days
Spend between 500 million KRW (500,000 USD) and 2 billion KRW (2 million USD)
- 20% rebate : Shoot no less than 3 days
Spend between 100 million KRW (100,000 USD) and 500 million KRW (500,000 USD)
Eligible Works
- Feature films, television series and documentaries produced by a foreign production company, in which the allocation of foreign capital in the production cost exceeds 80%

Eligible works must satisfy the following requirements:
· Must receive approval from the Review Committee who will evaluate the following three elements

(1) the degree to which the work promotes tourism ("tourism expansion")
(2) the degree to which the work contributes to the Korean film industry ("quantitative contribution")
(3) the extent to which the foreign producer participates in the production of the work ("foreign engagement")

· Must spend no less than 100 million KRW (approx. 100,000 USD) in Korea for production expenditure
as recognized by the Korea Film Council ('Qualifying Production Expenditure' or QPE). For a television
series, the production costs of all the episodes can be aggregated.
· Must shoot no less than 3 days in Korea
Eligible Applicants
- A corporation organized and registered as a business in Korea
Application Process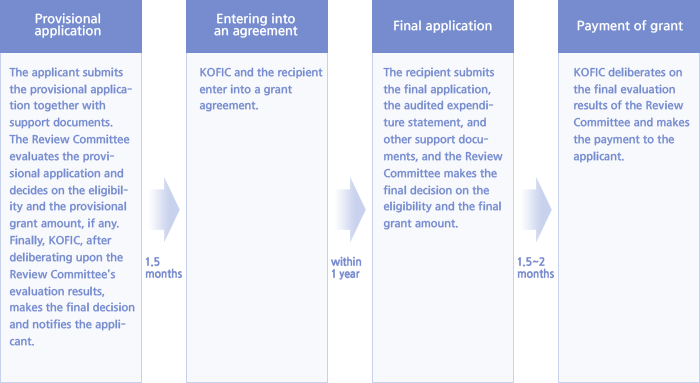 Application period
- All year round
Projects Supported & In Progress
- 2014 : Avengers : Age of Ultron(American feature film), America's Next Top Model Cycle 21
(American TV series), Seoul Searching(American feature film), Sense 8(American TV series),
Bad Sister(Chinese feature film), Emperor's Holidays(Chinese feature film),
The Phone(Chinese feature film)

- 2013 : One Cut(Japanese feature film)

- 2012 : Urban Games(Chinese feature film), Olympic Ransom(Japanese TV drama), Full House(Thailand TV
drama)

- 2011 : Hakuji no Hito(Japanese feature film ), Rainbow Rose(Japanese TV series),
On the Road(Chinese feature film)
Download
2015 KOFIC Location Incentive Guidelines
2015 Standard for Qualifying Production Expenditure