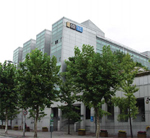 Established in 1973, Korean Film Council(KOFIC) is a special organization of wider state sector, entrusted by the Ministry of Culture, Sports and Tourism Republic of Korea, aiming to support the development and promotion of Korean films. KOFIC is a government-supported but a self-administered body, which is guaranteed its specialization and independence and it is considered as a Quango; Quasiautonomous non-government organization.
KOFIC is composed of nine commissioners, including one full-time chairman and 8 committee members, appointed by the Ministry of Culture, Sports and Tourism in order to discuss and decide major issues for the development of Korean films.
Led by the Seoul head office, there are separate departments specializing in various key aspects of Korean cinema; Domestic Promotion Department supporting Korean films and industry; International Promotion Center for the promotion and PR of Korean films abroad; Film Research & Development Center provides vital information in the form of statistics, analysis and publications. In addition, Korean Academy of Film Arts is for incubating and continuing education of film professionals; KOFIC Studios in Namyangju features state-of-the-art film production services and facilities; Technical Supports Department is the center for researching the future cinema technology such as digital cinema and 3D films; General Management Department manages the film development fund for Korean films.